Brumm: Nuevos modelos Plus Super-Series
15.04.2011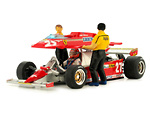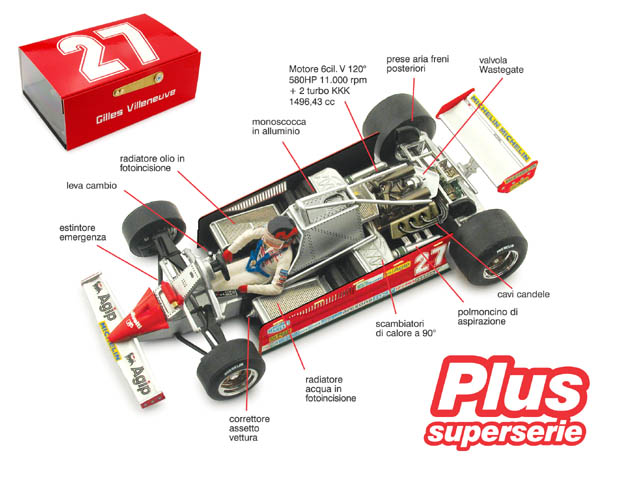 Ferrari 126ck 1981 - Plus Super Serie
Il primo motore sovralimentato del Cavallino viene alla luce nel 1980 e dopo una serie di test debutta nelle prove del GP d'Italia con al volante Gilles Villeneuve che segna l'ottavo tempo assoluto che Brumm ha riprodotto con modelli R447 e R447-CH. Il debutto in gara avviene però nella stagione 1981 dove Gilles Villeneuve ottiene due indimenticabili successi al GP di Monaco e al GP di Spagna.
The first turbo engine was born in 1980, and after a series of tests, it made its first appearance at the Italian GP in Monza where with Gilles Villeneuve at the helm it achieved the eight best result overall. This car has ebeen reproduced by Brumm with codes R447 and R447-CH. The effective debut was in the 1981 season, during which Gilles won two unforgettable races in the Monaco and Spanish GP's.
un supermodello brumm da 150 particolari - scarica l'esploso
Particolari verniciati

Spray parts

27

PDF fomat 1.5 Mb

Particolari tampografati

Tampo prints parts

28

Decals serigrafate

Decals parts

25

Particolari dipinti a mano

Handpaint parts

07

Particolari fotoincisi

Photoengraves parts

05

Particolari in plastica

Plastic parts

49

Particolari in metallo

Metal parts

05

Particolari in gomma

Rubber parts

04

TOTALE OPERAZIONI e/o PARTICOLARI

150
Le imprese leggendarie di Gilles Villeneuve con la Ferrari 126ck #27

presentazione
debutto in prova
debutto in gara e #27
1° alettone divelto!
1a pole e giro veloce
1° piazzamento
1a vittoria
2a vittoria
2° alettone divelto
3° alettone divelto
duello con F104
Fiorano, Settembre 1980
G.P. Italia, Imola 1980 - 5° tempo con il numero #2
G.P. Stati Uniti Ovest, Long Beach 1981 - in testa alla prima curva, lungo!
G.P. Brasile, Rio de Janeiro 1981 - gara bagnata...
G.P. San Marino Imola 1981 - ma solo 7° a fine gara
G.P. Belgio, Zolder 1981 - 4° posto e i primi 3 punti.
G.P. Monaco, Montecalo 1981 - sorpasso su Jones a 5 giri dalla fine
G.P. Spagna, Jarama 1981 - in testa per 66 giri pressato da 4 vetture
G.P. Inghilterra, Silverstone 1981 - contatto con un cordolo esce al 4° giro
G.P. Canada, Montral 1981 - 5 giri con l'alettone anteriore divelto e 3° posto


Aeroporto Istrana, Treviso Novembre 1981 - vittoria senza alettoni!

La confezione commemorativa "collezione #27 "

Con la denominazione di "collezione 27" abbiamo radunato le vetture più rappresentative guidate da Gilles Villeneuve da noi realizzate che nel solo anno 2009 in occasione del 27 anniversario dalla scomparsa di Gilles Villeneuve avranno un esclusivo package. www.brumm.it/27

The model is presented in a special satin-surface carton box, with racing number 27 made legendary by Gilles Villeneuve, and includes the reproduction of the special hook used in the original car to remove the upper part of the bodywork. Two magnetic bands, that resemble the "miniskirts" used on the cars at that time, have been used to open and close the box.

Una volta aperta la confezione rivelerà una gradita sorpresa, il modello ha la scocca sollevata di un paio di centimetri per rendere visibile la riproduzione di motore e meccanica: è infatti fissata sulla parte superiore della vetrinetta trasparente di protezione ma può essere smontata e posizionata accanto al modello.

N.B. La scocca non è posizionabile sul modello.

Once the box has been opened you will find a pleasant surprise: the upper body of the model has been raised a couple of centimetres to aid visibility of the engine and of the other mechanical details. This is because it is fixed to the upper part of the transparent plastic protection, but it can be disassembled and placed next to the model if you wish. Note: The upper body cannot be placed on top of the chassis on this model.

Rimuovendo la vetrinetta di protezione potete ora ammirare il modello e riconoscere i particolari della meccanica grazie alla dettagliata descrizione stampata all'interno. Ogni modello ha una numerazione progressiva realizzata con un laser da incisione su una fascetta di alluminio Spessore 0,5 mm posta sulla base del modello mentre nella parte bassa sono ricordati i momenti salienti della storia di questa vettura e le imprese leggendarie di Gilles Villeneuve.

When you remove the transparent plastic protection you will be able to admire the model and identify all the details of the car's mechanical features, thanks to the detailed description printed inside the box. The progressive numbering of the model is made with a laser system on an 0,5 mm thick aluminium band applied to the base. On the lower part of the box the more memorable moments of the history of this car are highlighted, together with Gilles Villeneuve's legendary exploits of the 1981 season.

La carrozzeria è fissata alla parte superiore della vetrinetta con un biadesivo che resiste a trazione. Per completare il diorama illustrato seguire le seguenti indicazioni:

1) staccare la carrozzeria ruotandola in senso orario
2) togliere con un dito i residui di adesivo rimasti sulla vetrinetta
3) togliere il pezzetto incastrato a pressione nella carrozzeria
4) realizzare due fori da 2mm sulla basetta per posizionare i meccanici
5)

incollare la carrozzeria sulle mani dei meccanici nelle apposite sedi.
novità in consegna ad Aprile 2011

Ritornano a grande richiesta i modelli iperdettagliati della Plus super serie Brumm. Esauriti i primi modelli consegnati nel la primavera del 2009 sono ora disponibili quattro nuovi soggetti. Gilles Villeneuve e Didier Pironi calati nell'abitacolo della Ferrari 126 CK ( P004B e P005 ) e in piedi accanto alla vettura con la riproduzione di casco e guanti appoggiati sulla scocca. ( P006 e P007 ) Novità di questa nuova edizione la presenza del cavalletto dove appoggiare la scocca ed alcune migliorie sul modello tra le quali segnaliamo i pneumatici che sono stati rodati manualmente per avere un aspetto ancor più realistico.

The models of the Plus super serie came back! Sold out the first edition issued in spring 2009 is now available in 4 new versions. Gilles Villeneuve and Didier Pironi in the cockpit of their Ferrari 126 CK (P004B and P005 ) and stand near the car with the reproduction of gloves and helmet. ( P006 and P007 ) New in this editions the support where to place the modelcar body and some new improvements like the ribber wheels manually worn to have a more realistic aspect.

P004B ( Serie Limitata 500pz. )


Ferrari 126CK 1981




Gilles Villeneuve #27


pilota con casco e cinture di sicurezza indossate + scocca e cavalletto
prezzo al pubblico: Euro 65,00


DISPONIBILI
AVAILABLE

N. 500/500

P005 ( Serie Limitata 500pz. )


Ferrari 126CK 1981


Didier Pironi #28
pilota con casco e cinture di sicurezza indossate + scocca e cavalletto
prezzo al pubblico: Euro 65,00


DISPONIBILI
AVAILABLE

N. 500/500

P006 ( Serie Limitata 500pz. )


Ferrari 126CK 1981




Gilles Villeneuve #27


pilota in piedi + casco e guanti + scocca e cavalletto
prezzo al pubblico: Euro 65,00


DISPONIBILI
AVAILABLE

N. 500/500

P007 ( Serie Limitata 500pz. )


Ferrari 126CK 1981


Didier Pironi #28
pilota in piedi + casco e guanti + scocca e cavalletto
prezzo al pubblico: Euro 65,00


DISPONIBILI
AVAILABLE

N. 500/500

P004F

(

auto non inclusa )




2 (due) Meccanici Ferrari 1981


per reggere la scocca P002-P003-P004


DISPONIBILE
AVAILABLE

P002 P003 P004 - CONSEGNATE NEL 2009 - ESAURITE SOLD OUT

P002 ( Serie Limitata 500pz. )


Ferrari 126CK 1981




Gilles Villeneuve #27




vettura + scocca





IL MODELLO E' ESAURITO IN BRUMM MA POTREBBE ESSERE GIACIENTE IN UN PUNTO VENDITA.

ESAURITO
SOLD OUT

500 pz.


P003 ( Serie Limitata 500pz. )


Ferrari 126CK 1981




Gilles Villeneuve #27




pilota con casco sulle ginocchia + scocca





IL MODELLO E' ESAURITO IN BRUMM MA POTREBBE ESSERE GIACIENTE IN UN PUNTO VENDITA.

ESAURITO
SOLD OUT

500 pz.


P004 ( Serie Limitata 1000pz. )


Ferrari 126CK 1981




Gilles Villeneuve #27




pilota con casco e cinture di sicurezza indossate + scocca





IL MODELLO E' ESAURITO IN BRUMM MA POTREBBE ESSERE GIACIENTE IN UN PUNTO VENDITA BRUMM.

ESAURITO
SOLD OUT

1000 pz.


la collezione "27" continua al www.brumm.it/27